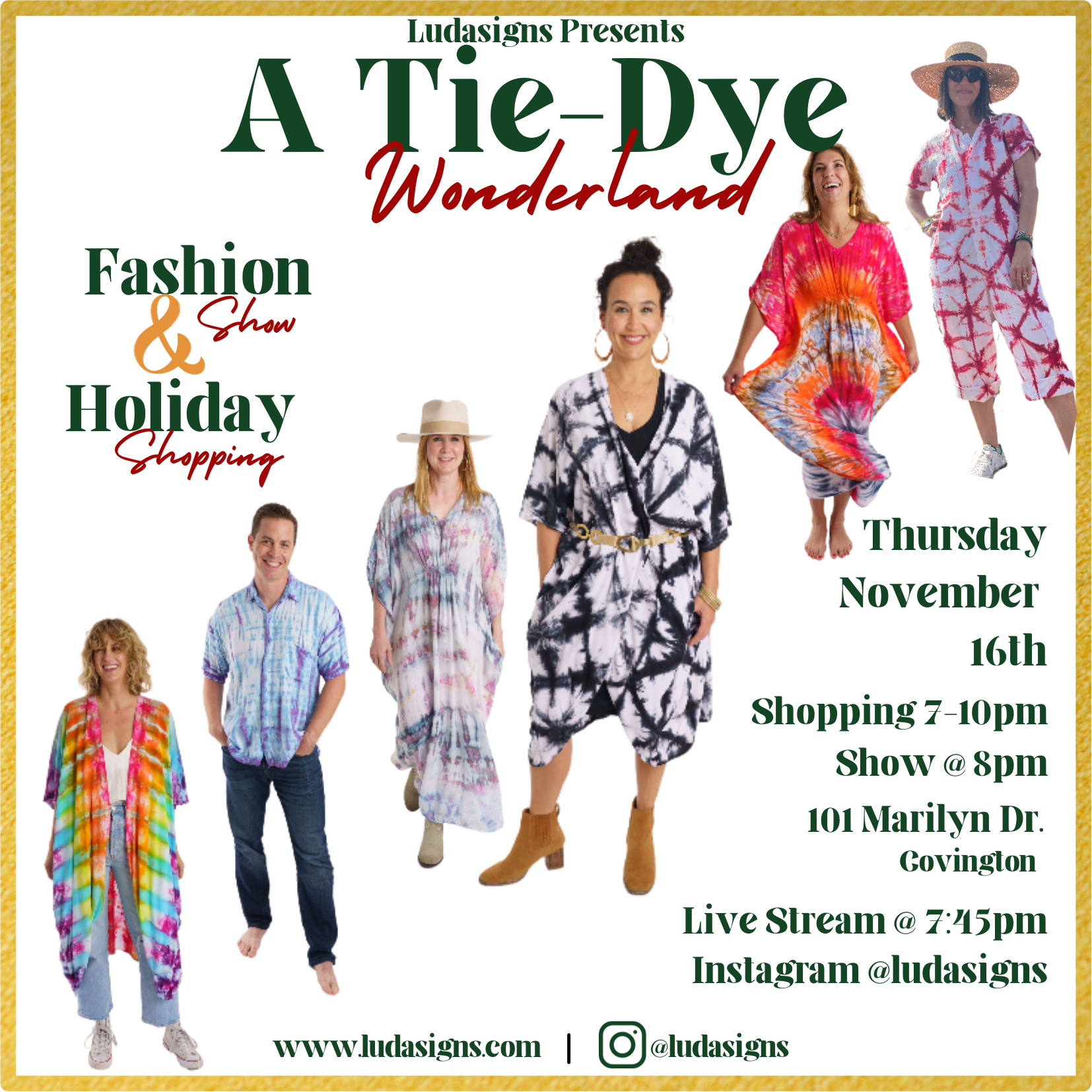 Ludasigns Presents: A Tie-Dye Wonderland
Ludasigns Presents: A Tie-Dye Wonderland
Hey Tie Dye Enthusiasts!
Get ready to dive into a world of vibrant hues and festive fun, because Ludasigns is thrilled to announce our upcoming Holiday Sale and Fashion Show on Thursday, November 16, from 7-10 pm!
What to Expect:
✨ Fashion Show Extravaganza: Strut into the holiday season with our music-filled fashion show. Be prepared for a visual feast of colors and patterns that'll leave you inspired and ready to take on the holidays in style.
🍹 Sips and Bites: Enjoy the evening with delightful treats and refreshing drinks. Our event isn't just about shopping; it's a celebration of art, fashion, and community.
🛍️ Shop 'til You Drop: Explore all of my collections featuring the enchanting hues of Christmas and the lively spirit of Mardi Gras! From cozy resort wear to vibrant head turning pieces, we've got it all. And yes, expect some exclusive surprises to add a sprinkle of Christmas magic and Mardi Gras joy to your shopping experience.
🎶 Groove to the Beat: We've curated a playlist that'll have you tapping your toes while you browse through our mesmerizing tie dye creations. Music, colors, and fashion – the ultimate trifecta!
🎨 Meet the Artist: Ever wondered about the magic behind the dye? This is your chance to meet the artist, chat about the creative process, and gain some insights into the world of tie dye.
👗 Personal Styling Tips: Need some fashion advice? Our expert stylists will be on hand to help you create the perfect ensemble with our tie dye masterpieces.
 Live Stream Extravaganza: For our clients who are out of town or unable to attend, we've got you covered! The entire fashion show will be live-streamed on our Instagram @ludasigns, starting at 7:45 pm. Be a fly on the wall and catch every colorful moment. As a special treat, a discount code will be revealed live on the stream, exclusively for those tuning in to enjoy the show.

Mark Your Calendars:
Date: Thursday, November 16 Time: 7-10 pm
Location: 101 Marilyn Drive, Covington, LA
Join us for an evening filled with color, laughter, and the joy of holiday shopping. It's the perfect opportunity to snag unique gifts for your loved ones (or treat yourself because you deserve it!).
Can't wait to see you there, ready to make some tie dye memories together!
Stay Groovy,
LUDA aka Tie Dye Lauren